2003 Before registering the car in Queensland and driving the 1700kms from Brisbane to Cairns (1056 miles) in April 2003, I arranged for a full service and inspection – this covered the following –
New Plugs, Engine and power Steering oil, Air and Fuel filters,
I had a 160degree theromstat fitted, new Serpentine belt, new hood release cables, coolant.
The Mass Airflow Sensor was throwing a fault code which was traced to the relays which were replaced.
A new Power Steering pump was fitted.
The Aircon compressor and Altenator brackets were re-welded. T
wo new Falken 275x40x17 tyres were fitted to the front.
Two new mufflers and rear exhaust pipe fitted. V
arious light globes were replaced in the dash and 3rd brake light
New power window switches.
I had the infamous 'Breadbin' passenger dash pad replaced with a custom flat one engraved with the word Corvette –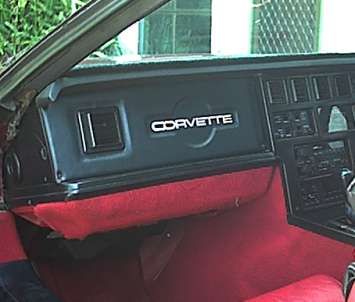 Once back in Cairns, in June I had new disc pads fitted all round.
In June I drained and refilled the Differential with Mobil synthetic oil and added 1 bottle of friction modifier
In October I removed the radiator and had Ryans Radiators remove the ends and clean and flush the radiator.
This made a huge difference to the running temperatures. Corvettes are designed to run hot but added to the tropical heat of Cairns there were days when the engine temps went above 110C. Now they are usually in the 90's. I discovered that the computer is programmed to turn the engine cooling fan on at around 116C – far too late. I fitted a temporary manual switch to turn the fan on when needed and plan to get the computer chip re-programmed to turn on at 96C and off at 93C.
I had the AIR pump engineered with better bearings.
I had the spot weld on the power window A frame re-welded. It won't break again.
I replaced the Oxygen sensor with a newer more efficient heated one in December 2003
I replaced the rear tyres with Kumho 712 275/45/ZR17
In December 2003 I fitted new delrin bushes to the right hand pop up headlight which had begun to slip. I bought bushes for both headlights, and later fixed the other side.