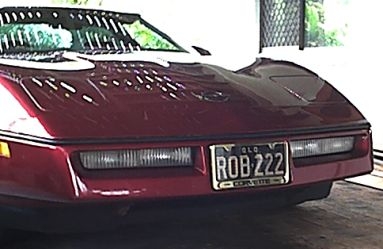 Registration Plates – I'd thought about having personal plates for a long time, getting my Corvette was the ideal opportunity – after all, it is my dream car so I want everything to be perfect.
I wasn't sure if I should have my name on the plate, I thought it could be annoying but after the first year with them, I knew there was no problem. I've only had good experiences. Very Occasionally someone calls out "Rob !" always very friendly and admiring the Corvette.
One guy was talking on his mobile phone and asked me to give the engine a rev so his mate could hear it over the phone ! which I did. Kids are amazing, they know what a Corvette looks like, although they are fairly rare here in Australia. Heads turn wherever I go. That's the kind of experience that owning a Corvette gives. People like to talk about the car, everyone knows what a Corvette is and thinks, like me, that they are very special.
When I was young our phone number was 222. The bus I caught to school was number 202. Somehow the number 2 has always been associated with me. When we first got a telephone number in Cairns many years ago, I was lucky enough to be able to get one that ended in 222. It was only natural that the numbers on my personal plates would be 222 – I didn't even think about it.