Rob Healey –
"Music Teacher/Web Designer with a passion for cars and model planes and, before my back gave, in a lifetime love of sailing."

I learnt to sail at school in England. Between the ages of 13 and 16 I was obsessed with sailing, always on the water whenever I could be. In the summer months I would race home from school, ride my bike a couple of miles to Pin Mill, on the river Orwell, drag my dinghy down 'the hard' to the water and sail until dusk.
When I was 16 I sailed my OK dinghy every day of the summer holidays. It was a great experience – the balmy still air days with the water like glass, idly drifting along – then the stormy, rainy days, very exciting. I would sometimes meet other friends out on the river and we would charge up and down a stretch of water together, on a broad reach, hanging out of our dinghies, spray flying everywhere.
I grew up on a small 7-acre property in a village called Chelmondiston in the county of Suffolk. My father was an aeronautical engineer and a Squadron Leader in the RAF. After World War II he started a Driving School, so from a very early age I developed a fascination for engines and……..CARS !
I began driving old 'bangers' around our field when I was about 9. I also had some junky old motorbikes, starting off with a BSA Bantam and progressing to a Norton 350cc. Wow, I was so light that I couldn't push the kickstart down ! And Fast !!!!!!! I scared myself many times.
One day I fell off the Norton and when I went to pick the heavy bike up I damaged something in my back which eventually lead, many years later, to major back surgery.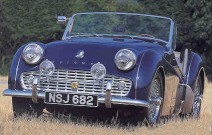 Cars replaced sailing as my obsession when I turned 17. By the time I was 19, I was the events co-ordinator of the Triple C car club and organising Auto tests, Hill Climbs and Night Navigation Rallies. I was club champion at Auto Tests and Hill Climbs for a couple of years and had two Triumph sports cars, first a Triumph Spifire and then a mighty TR3A – like the ones that used to win the Monte Carlo Rally.
See a young 21 year-old Rob, and his Tr3A in this video
I came to Australia on an extended working holiday, intending just to 'Have a look around'. I was so impressed that within 14 months I applied for citizenship ! After a few jobs in Perth I ended up driving an underground train and digger in a mining Camp at Kambalda just south of Kalgoorlie WA. I was the 'top gun' on my level because I liked to drive the train and the digger (called a 'Bogger') very fast. Occasionally I went too fast round a corner and the train would jump off the rails, then I'd have to jack the train back onto the tracks, working alone in the dark except for the helmet light. It was all great fun.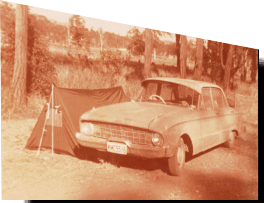 I drove up to Cairns in an old XK Falcon, two speed automatic. The Nullaboor Desert crossing was a dirt road in those days. About 50 metres onto the dirt the entire exhaust system fell off ! I left it off until I was back on the bitumen several 100 Km's later. It was a noisy trip.
I was immediately impressed with Cairns. So much variety in climate, vegetation and scenery with the Tablelands on one side and the Great Barrier Reef so close on the other.
After a few months in Cairns I got a Suzuki 250cc trail bike and explored the area. I became interested in motorbike 'Enduro's' and progressed to a 'state of the art' 250cc Montessa enduro motorbike. The enduro's were fairly hard, often riding through virgin bush, fording creeks, climbing steep slopes (and falling off and rolling back to the bottom). It was great fun. The guys that used to win were so fast I couldn't understand how they could do it, although they were always breaking bones. Often less than half the riders would finish so my friends and I felt very good just competing and we nearly always achieved our ambition to finish.

Riding a trail-bike in the bush was another great experience. We rode the disused tracks that the old goldminers had used, single file horse trails and sometimes made our own way through the scrub. I've never seen as much wildlife as we did then. Kangaroos, Wild Pigs, Snakes, semi wild Brahman Bulls etc etc. To toughen up for Enduro's we had a weekly 100km route through the ranges behind Cairns, onto the Tablelands and then down the steep 'Gadgarra' track, another disused mining trail to Goldsborough and then back to Cairns.
After working at the Cairns Post for 36 months I set up as a private Keyboard Music Teacher. Within a year my special arrangements and tuition began to help my students win awards in Eisteddfods and Music Festivals. I also began playing solo and in groups. During the 1980's I played keyboards and sang in several very successful Cairns Rock bands.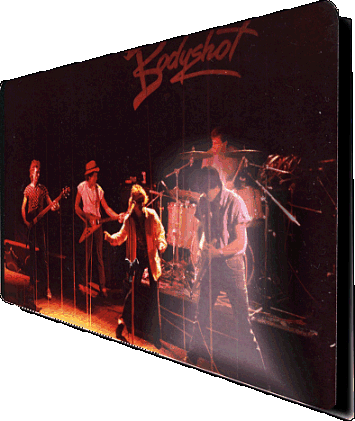 While I was Keyboard player with 'No Comment', we created several 'firsts' for local bands including being the first local band to perform center stage at the largest venue in Cairns, 'The Playpen'. Working with talented musicians was a special experience, the powerful music, crowd reaction and great mates was the very best of fun.
We were so successful that our 4 week gig was extended to 7 weeks and we broke the house record for attendance previously held by the Little River Band. We held that record for a long time until it was broken by the famous Aussie band INXS
Pictured here, I'm playing a lead solo on a portable keyboard
My first computer was a Commodore 64. I taught myself programming and wrote a business application to keep track of my students and fees. It had music notes floating across the screen and an Abba song playing, 'Money, Money, Money' !!! (The Commodore 64 only had 37Kb's of memory so I had to remove the floating notes as there wasn't room for any pupil data.)
I began using MIDI soon after it was developed in the 1980's and upgraded to an Atari ST computer which had built in Midi ports. Atari's were used to run the sequenced music in world class productions such as 'Cats' and 'Phantom of the Opera'.
I wrote several programs including one to print music. The Atari had 1 Meg of memory, which seemed huge at the time. It worked so well I still wonder why MS Windows and other programs need so much memory.
My interest in programming transferred to Web design in 1996, first learning simple HTMl and then progressing with Cascading Stlye Sheets, Javascript and PHP. I enjoy digital imaging and my artistic talens are at their best when I am using Photoshop. My years working in advertising and my constant study of it also help me to design webpages that look good and work well.
Back to Sailing – My wife and I had many adventures sailing our 12ft Heron dinghy. Two favourite trips were from Yorkeys Knob to Double Island and Wonga Beach to Snapper Island – a long way in a small dinghy ! One day on Tinaroo dam I could see a big summer thunderstorm coming and anticipating big winds we set off in the Heron, waiting for the breeze. When the squall came we shot off, at what must be terminal velocity for a Heron, hanging out of the dinghy to keep it upright, only our legs from the knees down inside the boat. It was very exciting. Suddenly BANG and I fell underwater. Toestrap broke ? No, MAST broke !
In 1985 we upgraded to LEGATO, an RL24 trailer sailer. It was in poor condition but cheap. We sailed out to Fitzroy, Green Island or the reef nearly every weekend that I wasn't playing music in bands.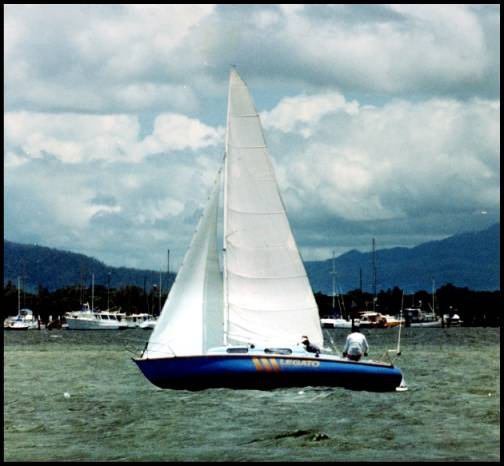 ---
Here's an excerpt from my story about
LEGATO
, called "A Respect for the Obvious" –
'I entered a local Saturday afternoon yacht race. It was the kind of day to dream about – a steady 12-knot breeze blowing in a clear tropical sky. We were in third position and I knew I was in Heaven. The wind eased and we lost speed. The other yachts sailed past as if in a different wind. The smug looks on their faces said it all. We trimmed and re-trimmed the sails to no advantage. Back at the yacht club my friends assured me I was going well, but I knew I could do better. Having won races in my OK Dinghy I wasn't used to finishing last.
Over the next 5 years I completely re-built LEGATO, put an enormous rig on her and we joined the winners circle on a regular basis. I'll never forget the day we first tried the big rig. In only 3 to 4 knots of breeze, the water almost glassy, we began to pick up speed until there was about 8 knots of apparent wind. The wind eased as we tacked then increased again as LEGATO surged forward like never before !
It was an exciting time. It's obvious now of course – the sails are a yacht's engine. There's NO substitute for horsepower. I became a horsepower junkie. It was from this time that I developed my 'Respect for the Obvious' theory. LEGATO'S keel weighed only 150 kg, I learnt how to 'de-power' efficiently, setting the vang and working the traveller and mainsheet 'dinghy style'. It reminded me of my sailing days as an underweight 15 year old.'
---
Legato won many races with the Cairns Yacht Club, the most memorable, and hardest, was a 16 week series held every week for four months. We enjoyed many weekend sails out to Green or Fitzroy Island but we had an ambition to sail further south to the Frankland Islands. This enterprise took on a mythical quality as, time after time, the weather defeated our efforts.
The last attempt turned into a joke. We left a windy Fitzroy Island at dawn – the boat loaded down with stores, fuel etc, every hatch and opening taped down to stop leaks, our waterproofs on, triple reefed main, storm headsail AND the motor on nearly full throttle.
Bashing into a 28-knot headwind after leaving Fitzroy Island was uncomfortable – it was going to be a long day. After an hour and a quarter I looked back, expecting to see Fitzroy Island a fair way behind us but it was still very close. I gave up, turned around, stopped the engine and we sailed back in TWELVE MINUTES !!!!!!!!!! It was 'Time for a new boat'.
We found ALLEGRO, an Adams Ten Metre Racer/Cruiser, in Bundaberg in 1990. I sailed her up to Cairns with three mates, Alan, Mike and Readie. On the first night while I was on the helm the log showed us doing 18 knots down a wave – that was more like it. Alan looked behind into the wind and said, with his customary dry humour,"It must be windy"! My students often ask me if I go on the scary rides at the Cairns show each year. Hey, once you've sailed at night and on a yacht doing over twelve knots, you don't need fake excitement !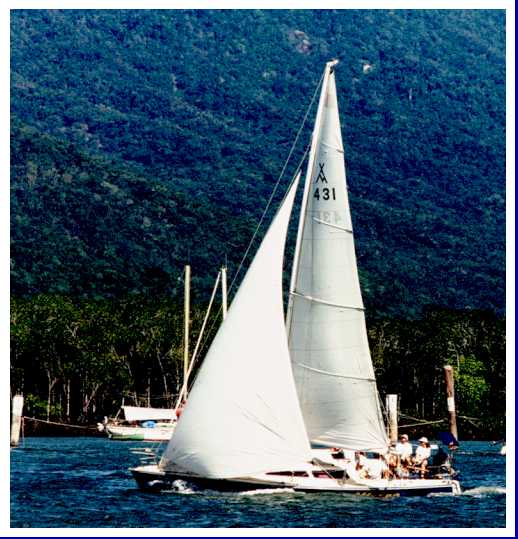 We won many races on ALLEGRO, thanks to good team/crew work. Of note -We were three times winner of the hotly contested Half Moon Bay Yacht Club's, Yamaha Regatta, (1993,1994 & 1996); the prize each time being a Yamaha outboard motor. Held during the period of winter storms, we've had some interesting moments during these races and two yachts have sunk and 3 or more dismasted.
We won the Cairns Yacht Squadron's, 'Around Admiralty Island Race' four times, (1992, 1993, 1994, & 1996). I've sailed as far as Cardwell single-handed and even won a race single-handed ! We've enjoyed several years cruising around Dunk Island, the Family Islands, Hinchinbrook Island and have sailed as far south as the Whitsundays.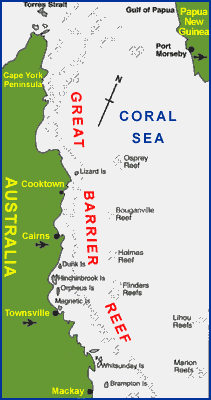 My good mates Mike and Readie helped me sail ALLEGRO down to the Whitsundays. A strong wind warning was issued 24 hrs after we left Cairns and days 3 and 4 saw us punching into 34 knots of wind along a very isolated part of the coast.
We arrived at Airlie Beach after 5 wet and windy days, having enjoyed every minute of it. My wife drove down to join us, which took about 8 hours. She wondered why we burst out laughing at her first words which were,"Gee, it's a long drive."
Back to Cars –
Being a car nut, I bond with every car I own. I've had 2 Austin 8's, 2 Mini's, a Wolsely, Hillman Imp, the two Triumph sports cars and so far eleven Ford's – including four Falcons and a Fairlane. Quite a record !
There's something special about a Jaguar. I've always wanted an 'E' Type but their value has risen to dizzy heights and it might be difficult and expensive to maintain one here in the 'Wet Tropics', this far from the UK factory.
A few years ago I transferred my affection to a new machine…….
The CORVETTE STINGRAY.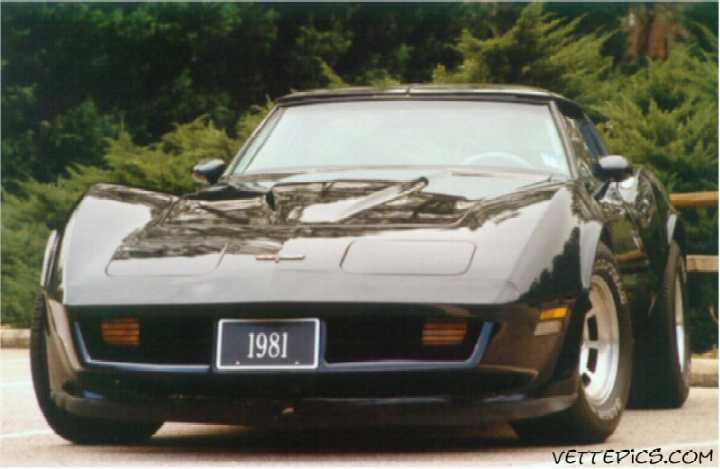 Now there's a car.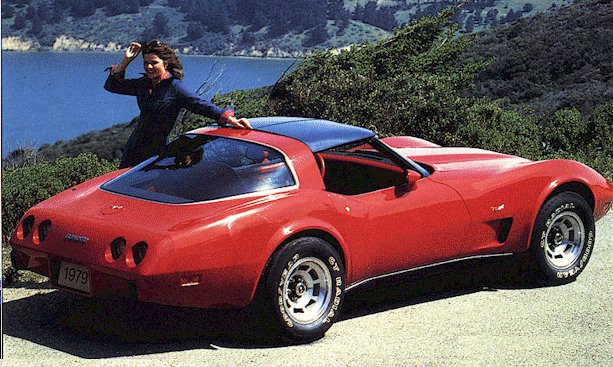 The body is fibreglass so it won't rust.
The engine is the famous Chevy V8 that so many racing cars have from speedway to V8 supercars. Many of the parts are standard GM/Holden.
Yeah !

Most of my music students know about the words to my song 'Here in Cairns', in my beginners music book –
"Sunshine Days, Big Stingrays,……….."
Well, I'm not singing about the fish !
While I'm a huge fan of the C3 Stingray bodyshape – I decided after much research to go with the newer C4 design, soley for the mechanical improvements in power, steering, roadholding and fuel economy.The full story is here My Corvette Dream
My 1988 Corvette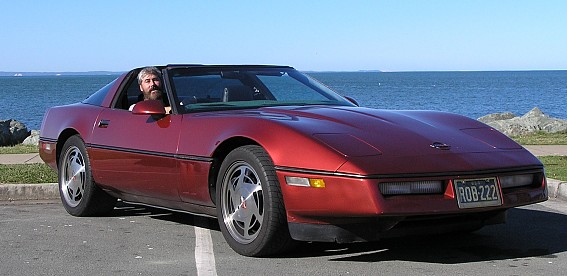 I'd like to ride a motorbike again. A friend of mine once reckoned that when you get on a motorbike you become invisible to other traffic – very true. Still, there's nothing quite like riding a motorbike, it gives me some of the same feelings that I get from sailing, there is a freedom, a responsibility and you are exposed to nature's moods.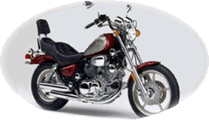 When I see all the 'weekend Harleys' appear, I want to join them. Harley Davidson's have become a cult motorbike, the prices seem to be unrealistically high. So I'm on the lookout for a 750cc Yamaha Virago that I can do up and have some fun with.
I've always been interested in flying things, of all sizes, Birds, Planes, Helicopters, Rockets, Kites etc – from Models to the real thing.
In 2002 I started flying model radio controlled planes with electric motors. I thought I was very good at Playstation games, so I was very surprised to discover how hard it is to fly a real model plane.
I met some other people who also 'fly electric' and we even fly indoors in a basketball court, the walls frequently get in the way !
I enjoy designing my own planes, part of the fun is finding out if an idea works and will fly. I'm now hooked on 3D flying -  click on the vid to watch me fly in the basketball court
My best slow flyer is a Red Biplane which is very manoeverable, although not  3D capable, and can fly slowly.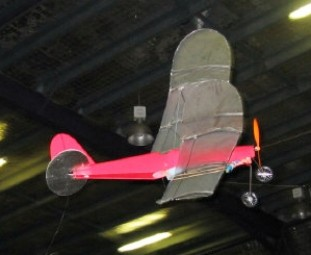 For outdoors I've designed many planes. Here's a World War II Spitfire I built from using a template from a cardboard cutout (with a few modifications)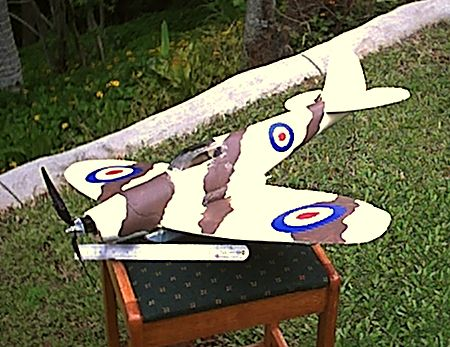 The Spitfire was a big success, although it's currently recovering from a bad crash due to pilot error – it's so hard to keep these planes in the air. I can basically fly around and land fairly well but I'm teaching myself aerobatics and I love flying around upside down. The controls are reversed when inverted so sometimes I go DOWN when UP would have been the correct choice.
I converted a $15 kid's polystyrene glider that I bought from Woolworths, it's shaped to look like an airliner –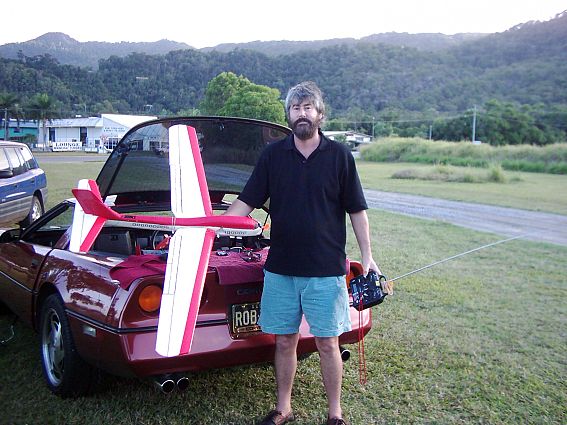 I was flying it one day and a couple out walking stopped to admire it. After a few minutes I did a loop – the two people had, I think, identified with the plane as one they would fly on – so to see such a violent action really frightened them for a few seconds, it was very funny, one of them shouted,"How could it do that !!!!".
Here's my Ultra Bipe, built from 3mm depron foam.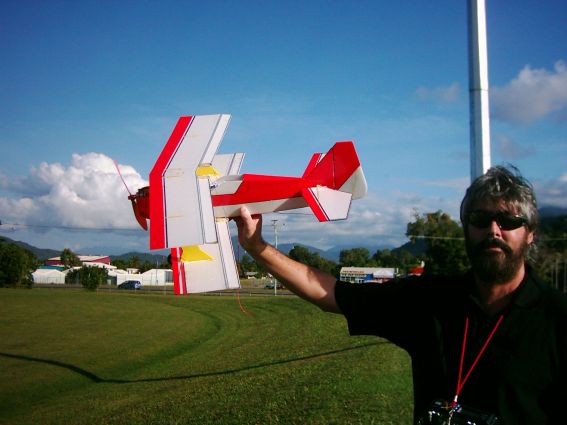 Here's video of my Ultra Bipe. Since this video was taken it has now got a more powerful motor, and it flies brilliantly out in the park or in the basketball court
Here's a few more of my model plane pictures –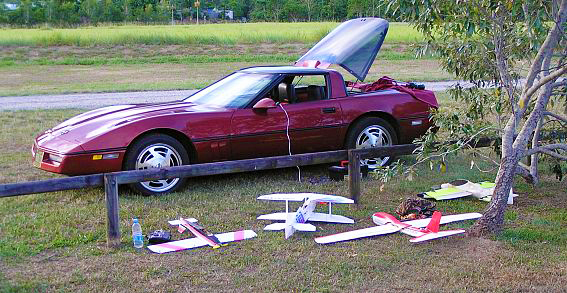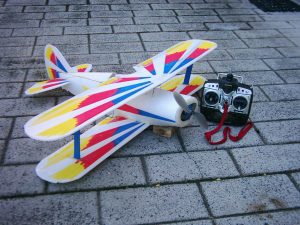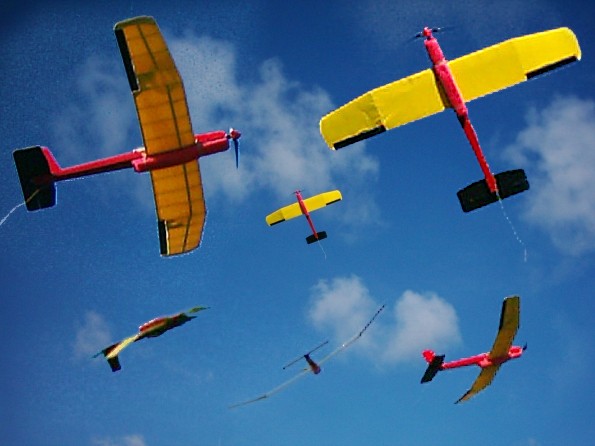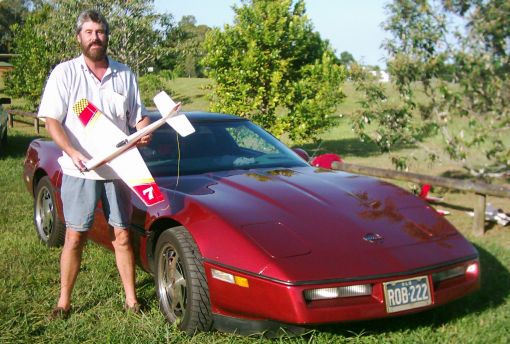 This is a model of a Pitts Biplane I made out of 6mm foam, designed mainly by eye. I call it the 'Kids Plane' because of the colours. It needs a larger motor but it's built too light to be able to withstand the extra weight. It flys beautifully but not as 3D as I wanted.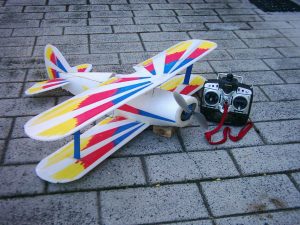 The next video is my fantastic R3D, made from EPP foam, it's had THOUSANDS of crashes!! as I slowly built up the skills to fly 3D near the ground. I have had so much fun with this plane ! The EPP foam is almost indestructable.
'He who dies with the most toys wins'

I've got a flexifoil kite, it's so powerful it pulls me along the ground. I'm planning to use it to power the canoe and do a trip, perhaps Cairns to Ellis Beach. Steering and flying the kite may be a problem………..

I love racing cars on the Sony Playstation; it doesn't hurt when you crash ! My favourites are Ridge Racer, Need for Speed and of course Gran Tourismo.
Having a yacht and doing your own maintenance means that eventually you have a lot of power tools. (Insert your own 'Tim the Toolman' AAAArrrrrr AAAAArrrrr here) I enjoy making and fixing things and have recently begun working with timber, something I've always wanted to do.
I have several musical projects on the go. It's an exciting time to be a keyboard musician, we can program the entire band (er, well, except the singer) into a sequencer and make some mighty sounds. We can even burn our own CD's at home.
Oh…,.I forgot to say about the……….Yeah, I could go on – and perhaps I already did.
I can't believe you're still reading this page. I hope you enjoyed it. Thanks for stopping by.