This is not just a blog of routine servicing, but also repairs and improvements
Most jobs done this year were part of preparing the vette for the long 7 hour drive each way to the Charters Towers Car Show Weekend in June. Written up here – Charters Towers 2010
January
Radiator flushed and new O ring tank seals. New upper and lower Radiator Hoses
February
New Nippondenso Airconditioner compressor, dryer and orifice tube. Flushed twice.
The front seal failed after 6 months !!!! so here's a WARNING – although the unit you buy may be new, it may have been sitting on a shelf for years. I had to have the unit reconditioned and the system regassed, which cost nearly as much as buying and installing the unit the first time!!!
I also took the opportunity to have the pressure hose replaced because it is designed for R12 gas and is known to beocome porous over time with 134A gas. It's the lower hose exiting the compressor in this picture.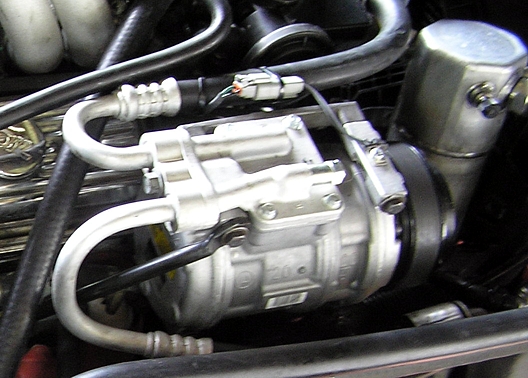 Fitted a New Serpentine Belt
March
Replaced heater and oil cooler hoses.
I discovered that during the right hand drive conversion, the oil cooler hose had been connected up the wrong way and was actually sending the hottest water to the oil cooler. The cool water outlet had been blocked off!!.
With great advice from NSW Corvette Guru, Rod, I replaced the blocked fitting with a brass L piece and led a hose straight to the oil cooler. The aluminium tube normally used to transfer coolant up to the water pump was not connected, possibly because it leaked, so I lead new hose up to the water pump.
This picture was taken looking straight up from the ground. On the right is the oil cooler – the brass L piece is labelled "1/4″ NPT 90 degree with 5/8″ barb"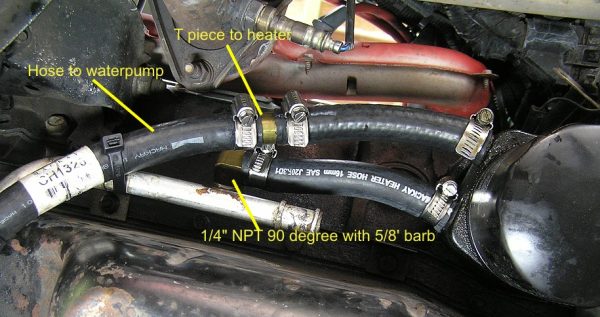 Before routing the new hoses I checked the correct way to connect the cooling system with several people, including Rod, Ben, John Bondok and the Corvette Forum.
Here is the correct water flow chart for RIGHT HAND DRIVE converted C4's –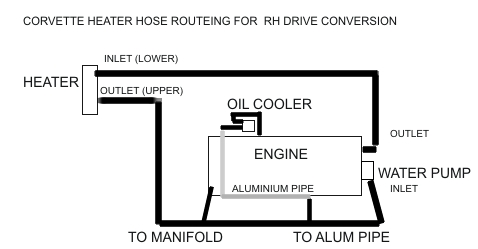 Replaced power steering hoses. Although they were only 3.5 years old, they were leaking –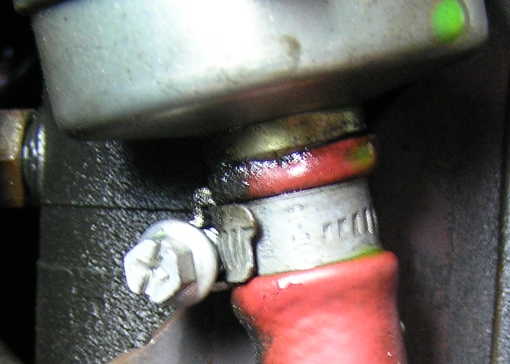 May
Replaced rear wheel bearings with genuine OEM bearings Full Info on How to here –Rear Wheel Bearings Instal
Replaced front shock absorbers with Monroe Sensa-trac.
Note: I fitted rear Monroe sensa- trac shock absorbers in 2008 and found they made the ride less harsh. The Nexen tyres fitted in 2009 also improved the ride quality although I think they are so soft you can feel the sidewalls give on hard cornering. At the vette tyre size of 275x40x17  I wouldn't recommend them for high speed work, but I do recommend them for a less harsh ride.
June.
Because the reconditioned head was now 5 years old,   I had the head pressure tested to ensure that the head gasket was in top condition. As well as pressuring each cylinder, the entire system was pressurised and left overnight. All tests passed with flying colours.
Replaced the Sony CD player with a new one with MP3 input.