When I first got my Corvette in 2003, the engine was very dirty.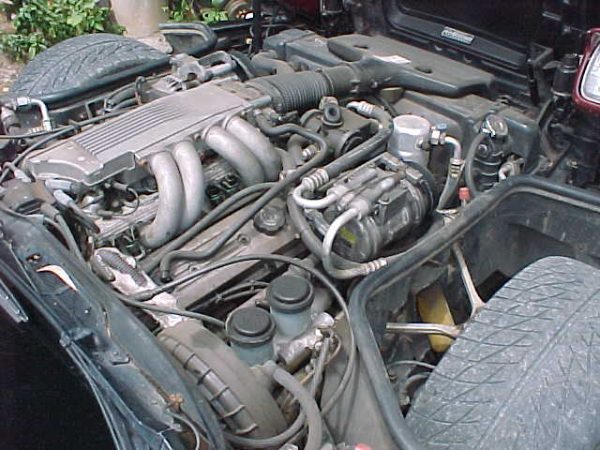 I did my best to clean it with degreaser and brushes first. I was very unhappy with the result – the black plastic parts looked faded and seemed to have a transparent skin that was peeling off in places – it looked bad.
 I heard about this way of regaining the black on faded parts on the Corvette Forum, this involves spraying a warm engine with Armourall Tyre Spray.

 A few people said it worked so I did a small test area. It made the plastic go black and shiny and it looked so much better. I sprayed everywhere in the engine bay including inside the hood. It made a huge difference and lasts and lasts – I've never seen anything revert to the grey white powdery look – I was amazed at how good and easily it fixed everything.
After Using Armor All –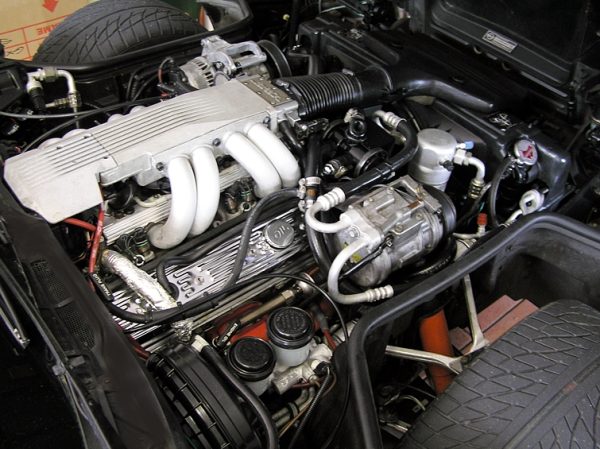 Note: As part of the original cleaning up of the engine and maintenance, I also replaced the Rocker covers and shockabsorbers, painted the exhaust manifolds etc. Note the vaccum booster, the AIR diverter box, the inlet manifold hose, top of radiator –  after the spray they came up like new!
I was concerned that everywhere would turn into a gooey sticky mess but that's not the case – I now spray the wheel wells, under the bonnet – everywhere – remember not to spray on Serpentine belt as it's slippery.
UPDATE – I've been sprucing up the engine compartment with Armorall for a few years now. I can definitely say it does not harm anything, there's no noticeable build up, it's not sticky or attracts dust. It's just a fantastically easy way to keep the engine looking good.
In 2010 before the 7 hour drive to the Charters Towers car show, I sprayed the engine bay, including under the hood which was very faded, with Armor All Tyre Foam. Everything came up like new. The car show is a 2 day event and at the end of day one I noticed grass seed stuck all over the engine bay, the radiator hoses and top of radiator, it looked terrible. They had dried hard and wouldn't wipe off. I drove the vette back to the motel late in the afternoon and back to the show the next morning. When I lifted the hood EVERYTHING WAS SHINY AGAIN!!!! I assume that when the engine heats up, the Armor All becomes fluid again, or something like that. Those grass seeds had vanished. OK this sounds like a miracle, but it's true. I have no connection with Armor All, I don't sell any car products, I'm not in any related industry, just reporting what is happening to me.
Instructions –
Wash engine for the first time application and get everything as clean as you can, spray onto a warm engine, close the hood and wait 20 minutes – TOO EASY – they're bound to make it illegal !!