July 10th 2006
This time last year I was driving to an airshow in England with my brother. As we got nearer to Duxford the traffic built up, and we saw signs advising us to park and catch a shuttle bus to the airdrome. I asked Pete if he wanted to do that and he replied, "No way – I'm a MOTORIST' !!!
When we were young our parents took us on many motoring holidays, my Dad was a keen 'Motorist'. He had the badges on the front of the car etc, and we drove around England and even across France to the Mediterranean. It was always an adventure. We live in a different era now, with cheap airfares and expensive fuel, but I thought it would be fun to take my 1988 Corvette on a 'Motoring Holiday' from Cairns to Brisbane.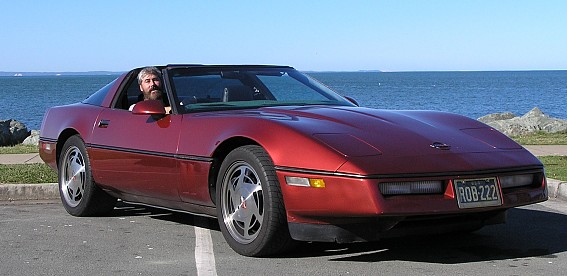 First I had to prepare the vette for the 4 to 5 thousand kilometre round trip (2500-3000 miles). I worked through a long list of known things that needed to be done. 
The hydraulic lifters were not adjusted properly after the heads were reconditioned last year. It took me nearly 3 hours to remove the right-hand rocker cover because of all the parts like the airconditioning compressor that were in the way, and because of my bad back I could only work for short periods, but within a few days I had the lifters adjusted properly and everything back together.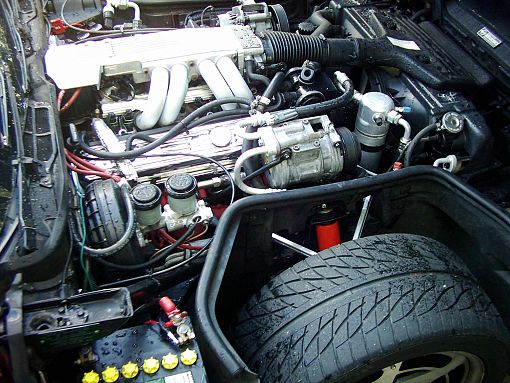 The next project was to remove some excess padding from the passenger seat side bolsters, which had been added in error when I had the seats recovered. That was an easy job.
My back is partially fused together and very stiff. That, and my height, make it hard to get into the vette seat, so I have lowered the seat as much as I can. It's so low that I was sitting on some of the adjusting machinery. The main culprit was the power reclining mechanism. After some research I discovered that the manual reclining mechanism was less intrusive, so I ordered one of those from Vette2Vette in America.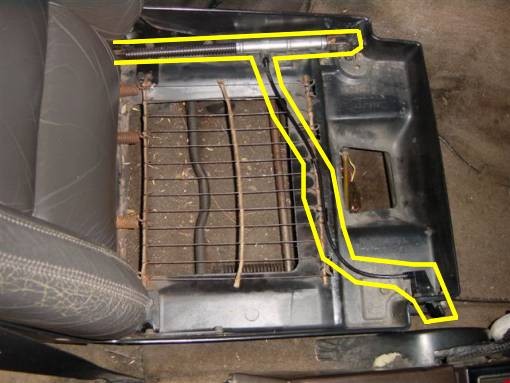 For a long time the windscreen had been leaking in heavy rain. Eventually I found the source of the leak, between the glass and metal trim. I cleaned out the old silicone and resealed both sides.
A simple job was changing the oil and filter – or so I thought at the time.
Another job on the list was fixing the door locks. On the passenger side the key would not operate the lock, and on the drivers side the electric solenoid was stiff, preventing the remote locking system from working. Working inside the passenger door was tricky. The lock is at the top rear corner and mostly I had to work one handed and unsighted. It was while I was stretched and twisted trying to re-fit a circlip that I wrenched something in my spine which gave me a massive spasm and has been causing me pain ever since, despite many trips to the physiotherapist.
After losing the circlip in the door several times, I supaglued some thread onto it and of course it fitted straight on the next go!

On the drivers side I drilled out the rivets holding the power door lock solenoid in place. Took the solenoid apart and discovered it's a motor not a solenoid. Cleaned it and the door lock up and bolted it back into place.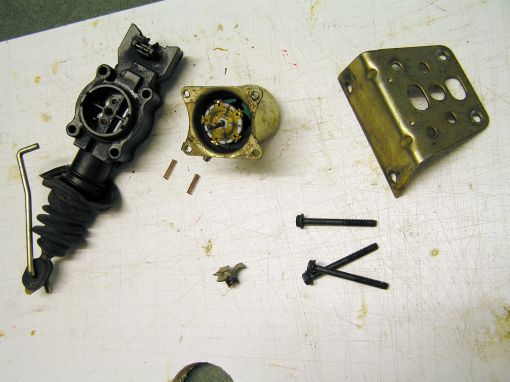 While working on the car one of the headlight lids came loose. I had it re-glued with expensive panel adhesive and I also attached a safety wire so that if one came loose again it wouldn't fly off the car.
The steering rack had begun to leak, so I booked the car in with the steering rack specialists. What started out as a 2 day job turned into an 11 day saga. Firstly, because of the Right Hand Drive conversion, the rack is not a Corvette one and couldn't be identified. The vette was converted by Corvette Queensland so I rang them to ask what the rack was from. They told me they didn't know, but could sell me another one……. Hmmmmm.
Eventually the seals etc were sourced and the rack reconditioned. When they were refitting it I was told that the steering hadn't been centered correctly during the conversion. I finally picked the vette up on a Sunday morning, with just a week to go before our planned holiday. The steering wheel was 1/3rd of a turn out and the specialists advised me that was because they had 're-engineered' the rack so that it was centered. They also said I would have a tighter turning circle.
I noticed that the indicator wouldn't cancel on one side, so I dismantled the mechanism inside the steering column but found it was not adjustable. I then had a lot of trouble refitting everything, eventually I made a 'pusher' from the steering wheel puller and managed to squeeze the spring back down and fit the C clip.
I noticed some oil leaking from the new rack so took it back, but the workshop couldn't find a leak, they did notice a blob of green coolant and suggested that maybe the coolant was leaking, so I hurriedly drove round to the radiator shop. Time was running out and if something needed fixing I only had one day, Friday, left to organise it. They pressure tested the system and could find no problem. The leak must have been caused by oil residue because it hasn't leaked since. I felt very confident that the coolant system would give no trouble after the pressure test.
Other jobs included hiding spare keys, replacing blown globes in the 3rd brake light, having front wheels aligned and balanced, etc.
Our plan was to leave early on Sunday morning, but while I was doing last minute jobs on Saturday afternoon, I discovered that the sump plug was loose and that the thread was partially stripped in the sump. Drama!! I rang some '24hr' mechanics but no-one could help me till Monday morning.
So, on day 2 of our planned 'Motoring Holiday' I was at a workshop, still in Cairns, at 7am, having a new thread cut into the sump and a new bolt made. I dashed home at 8.15am and began loading the Corvette. As it would be mid winter in Brisbane we had to take some warm clothes with us. We also took two pillows, some grog and bottled water, tools, books etc. The hardest thing to fit was my radio controlled airplane! but I got it all in somehow –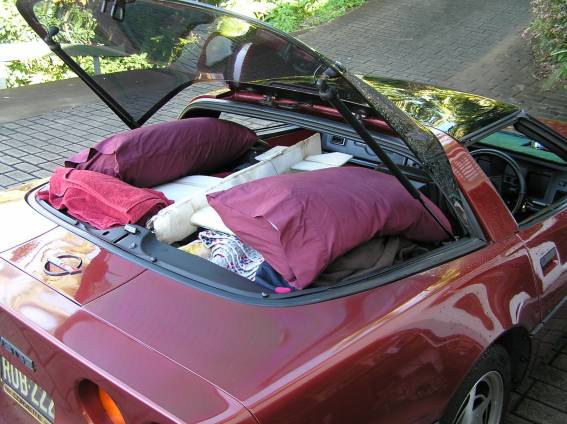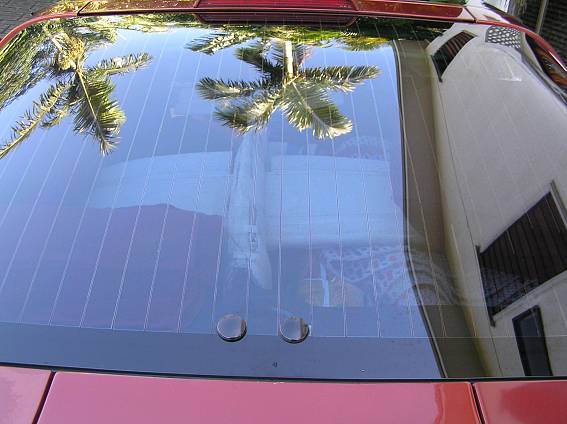 Ready to go at 9.30am Monday June 2006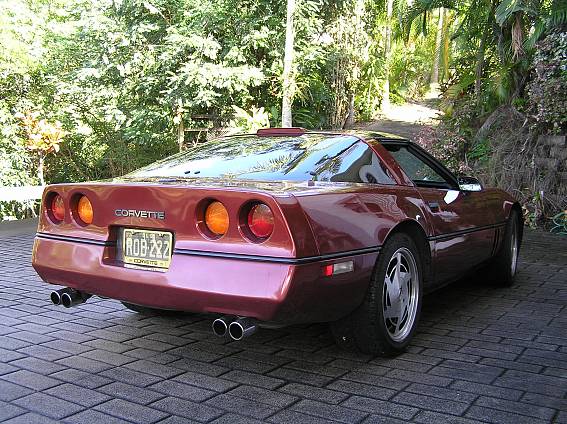 My last 1700km (1056 miles) trip back from Brisbane took only 16 hours, and fuel economy was a surprisingly low 9.8 litres per 100 km. (UK 28.8mpg, US 24mpg). This time we planned to take it easy, over three days, so we had booked a room at the Horseshoe Bay Resort in Bowen for Monday night.
We began our 'Motoring Holiday' at 9.35am.(there's a Map at the end) 
About one hour into the trip I discovered that the rear wheels were out of balance and vibrating, so we stopped at Tully to have them rebalanced. We topped up our fuel in Townsville at the BP on the Southern side. Fuel was 6c a litre cheaper than Cairns. The Corvette ran very well, fuel economy was 10.2l/100kms (UK 27.7mpg, US 23 mpg) which was excellent for a 5.7litre 350ci  V8 engine. The engine ran cool and thanks to the low overdrive ratio it was purring along at the legal speed limit of 100kph (62 mph) at a mere 1900rpm.
We arrived in Bowen at 4.55pm, a bit later than planned. The drive to Bowen is usually about 6 hours but we'd taken 7.5 hrs because of the stops. It had seemed like a long drive, and I was feeling very tired for the last 90 minutes of it, but soon woke up as we enjoyed a walk along the beach and up some rocks to a lookout. The view of the sea and islands was great.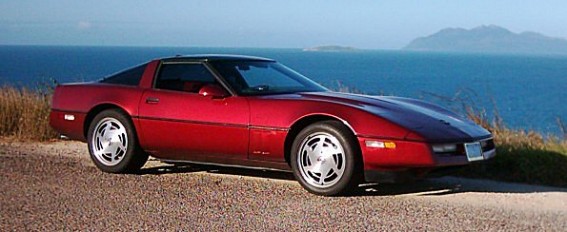 We left Bowen at 8.25am on Tuesday, determined to press on and cover some kilometres, hopefully reaching Gin Gin. We stopped for breakfast at Mackay then an hour later, at Sarina, Mo took over the driving. She took a while to adjust to driving the vette, which is understandable as it's more like a racing car than a 'shopping car'. It's very low seating position, direct steering, 10inch tyres which grip the road and plenty of power all earn it the nickname of 'The Beast'. She drove very carefully for about half an hour until she began to get used to it and we were soon eating up the distance again.
I took over driving at Rockhampton, we refuelled at Miriamvale where the fuel was expensive, and we arrived in Gin Gin after dusk at around 6.30pm. In the ten hours driving we had covered around 800 kms (500 miles), almost half the distance from Cairns to Brisbane. We walked across the main road to the pub for an excellent meal, enjoying the wood fire and gas heaters, something we don't need in Cairns even in the winter.
We left Gin Gin at 8.15am Wednesday 28th June and drove two hours down to Corvette Queensland in Gympie, where I had arranged a test drive of a 1999 silver Corvette. The C5 Corvette was excellent, very smooth and a lot more internal room. The engine had more power too.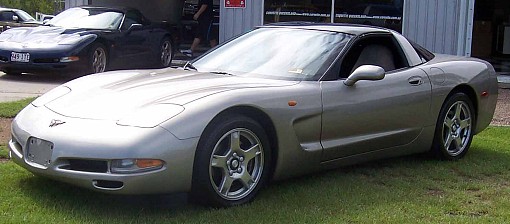 Oh yes, I can see myself in one of these!!! Only the $75,000 price tag holding me back.
After Gympie we drove a further hour south, stopping for a couple of hours at the Eumundi markets. The weeks of car preparation had been very hectic, right up to the last job on Monday morning. The drive down is long and although great to do it in the vette, still hard work. The sun was out and we relaxed with a coffee. It was here, in Eumundi that we really felt that our holiday had begun. (Click for local Map)
At 2.30 we drove to Nambour and up the range to Monteville. We drove around looking for a suitable motel close to restaurants and eventually stopped at the Monteville Motor Inn, where we had stayed before. It got very cold there after dark. My ears were frozen.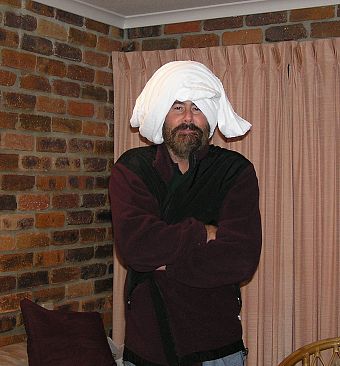 For our evening meal we walked to a pub style restaurant called the 'Penny Farthing' where they had Guinness beer on tap. Walking back at 10pm we enjoyed the bright stars and very cold mountain air.
Thursday morning was very sunny. The motel had bore water, the friendly owner lent me a hose and bucket and I gave the vette a wash. I had to put my hands under the hot tap afterwards, I reckon they'd got frostbite. Here's the Corvette in the motel grounds with Mo and the Teddy we bought at Eumundi.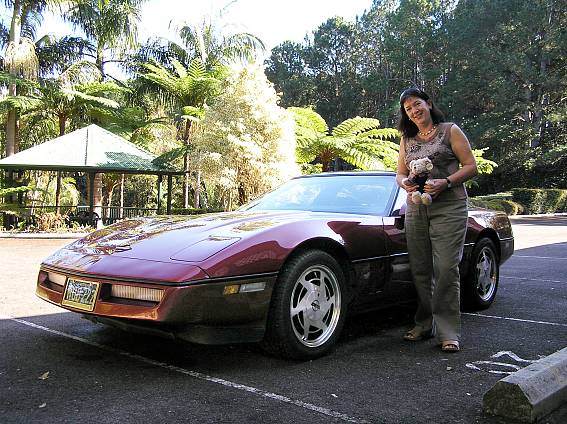 From Monteville we cruised along the ridge road with spectacular views down to the Sunshine coast and arrived in Maleny for a morning cuppa. After that we drove to the Mary Cairncross park to admire the view of the glass mountains, then went back down the range to the Ettamogah pub where we visited the sheepskin factory and I bought new sheepskin slippers.
We drove over to Caloundra for a fish and chips lunch.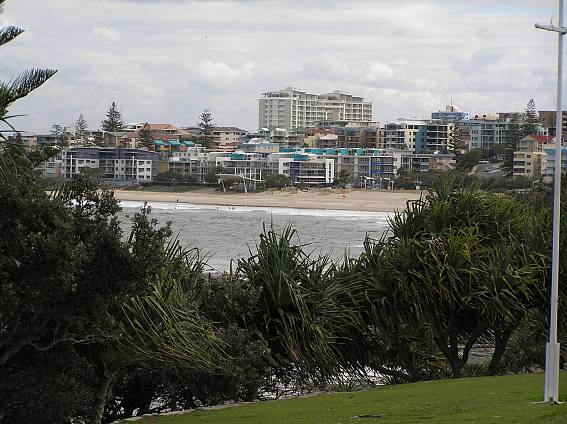 It was very windy at Caloundra and there was a view of the glasshouse mountains from a different side –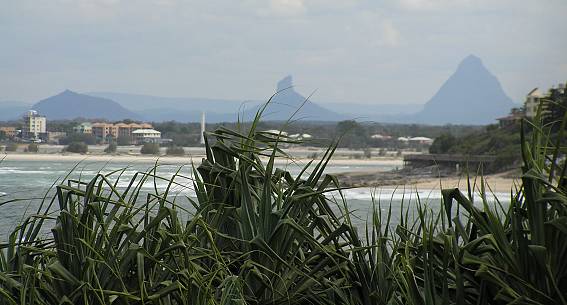 After lunch we headed into Brisbane, crossing the Gateway bridge. Our destination was Stafford Street in East Brisbane, and we were almost there when we got snarled up in a two hour traffic jam.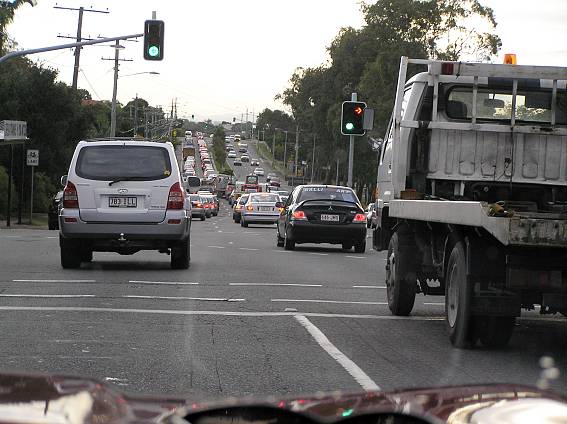 I turned on the manual coolant fan switch and the vette remained cool at 84C. We crawled along for the next 2 hours, navigating with the UBD to make sure we kept in the right lanes. The throttle had been a bit sticky for the last 2 days and had to be tapped hard to knock it back to idle which made the traffic jam a bit more interesting. We arrived at Mike's townhouse after dark and the keys he had sent me didn't fit the door. I was really busting for a pee, so I christened a large plant in his front garden, hoping we had come to the right house!!!
Eventually we found the garage door unlocked and the key fitted the sliding glass door into the garage. We unloaded the vette and were impressed with all Mike's renovation work. The place seemed like new. I replaced his old Datsun Sunny in the garage with the Corvette, it looked so much better.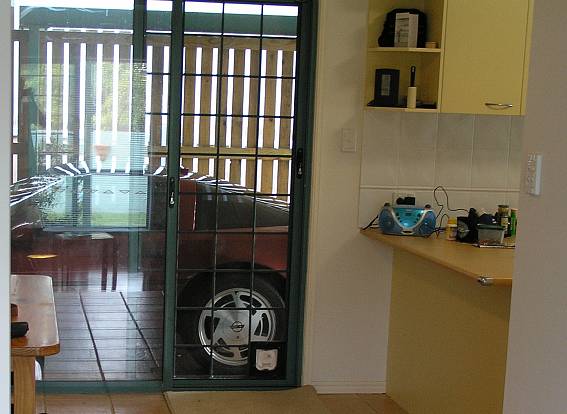 On Friday we caught the City Cat from a jetty about 300 metres away and toured the river and city by foot.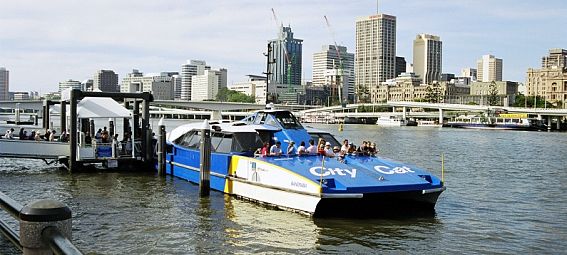 The weather remained excellent for the rest of our holiday, blue skies every day and light breezes. While at Southbank I called in at an Indian Restaurant we had enjoyed eating at last time we were in Brisbane. I got a menu and their phone number and checked that we would need to book, mentioning that it would be either today or tomorrow.
On Saturday 1st July we took the roof off the vette and cruised to Sandgate and Redcliffe. The weather was perfect.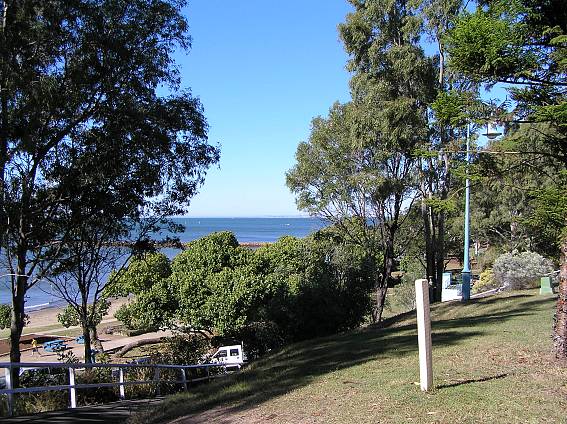 We stopped for coffee and Mo enjoyed sitting in the shade reading the local newspaper.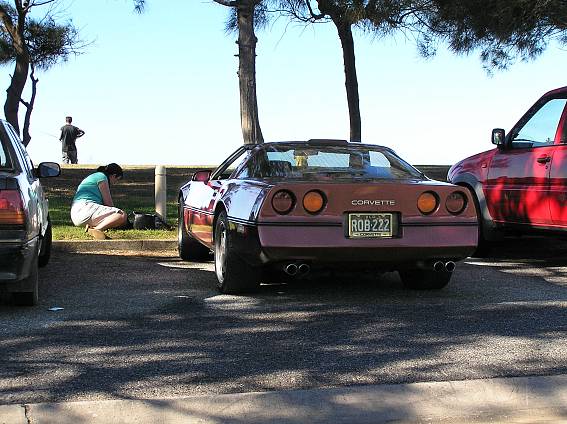 I measured this Esplanade drive at 33kms, perhaps the longest Esplanade drive in the world?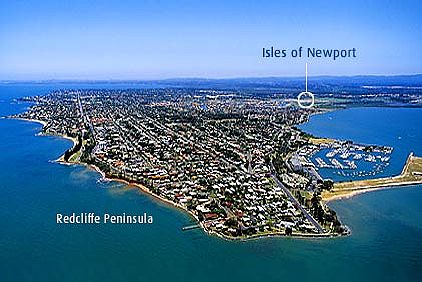 This is just the Redcliffe part of the Esplanade which goes all the way along this coast line, plus perhaps a third again at Sandgate.
Later on, at Redcliffe, we found a good place to take some vette pics, here's Mo still trying to read the paper.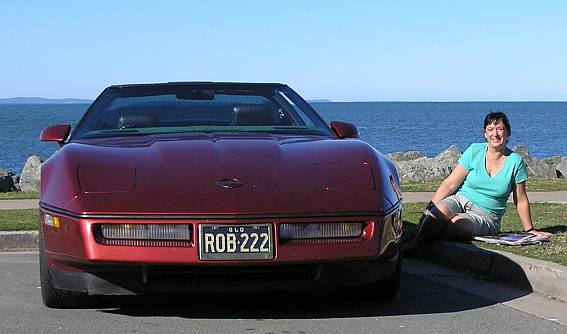 That night we caught up with Steve and Lehte and had an Indian Curry – but not at the Curry place at Southbank, because their lease had run out that day and they were closed!!! Even though I had visited them only the day before to get a menu and phone number. It can be a crazy world. After the curry Steve drove us around the streets, ending up in Bulimba with a ghost story!! and then back to Stafford street where we sat and talked some more till late.
On Monday I was due to visit Ben for a Corvette session and to let him fly my 3D Acrobatic plane. Unfortunately he was called in to work, so Mo and I drove down to the Gold Coast.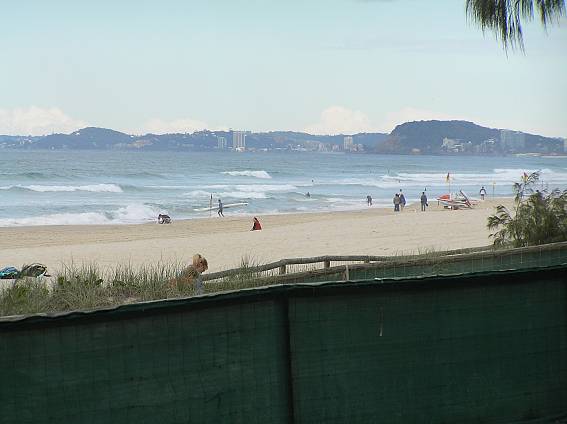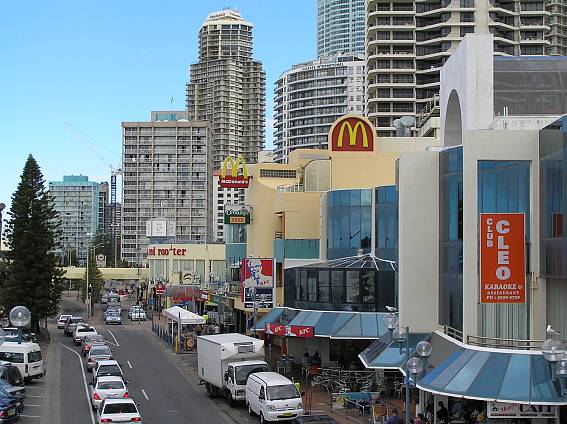 After the Gold Coast we drove up Mt Tambourine and enjoyed views of the Gold Coast and Hinterland.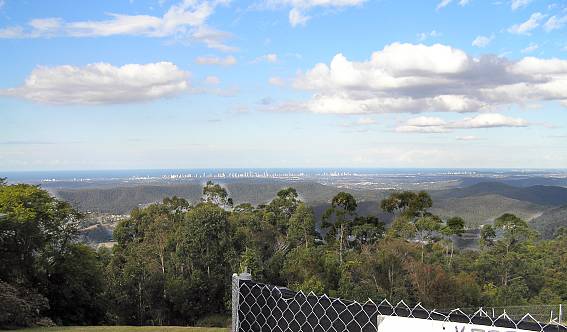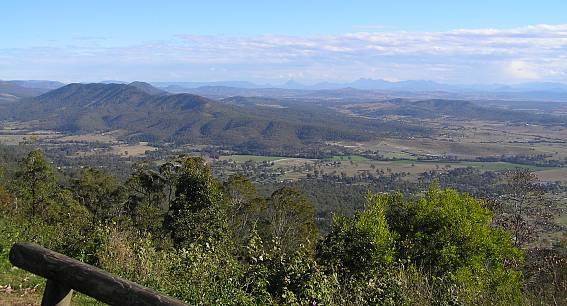 That night I drove over to see Ben. Navigating alone at night in a strange city was made easier by a route list that I usually make and hang from the dash. I list each street and mark left or right turns etc (I still got lost though!). The map light in the interior mirror is brilliant, it's very easy to drive with it on because it shines vertically down and lights the cabin without shining in my eyes.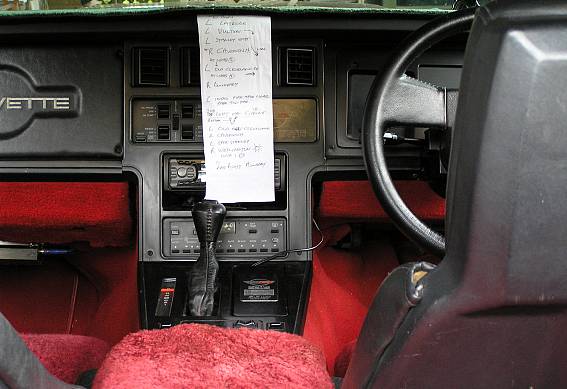 For a long time we have been trying to get my Corvette computer to communicate with scanning programs. I recently fitted another ECM to the vette and this one communicated instantly with his laptop, which was great news. We tried Win ALDL and Datamaster and I saw how much faster Datamaster was. It was incredible to see all the sensor data flowing onto the laptop screen and once I get our laptop configured this will help me diagnose engine problems and help me keep my vette running in top form. We tested my knock sensor and the scanner reported no knock detected – even when Ben hit the engine with a hammer – so it needs to be replaced.
After discussing some more Corvette things, and hearing his 1984 Corvette roar with almost no mufflers, I flew my plane from his garage door, out to the street and back. There wasn't enough room to give him a go so he took my vette for a test drive and stopped at a park to see if we could fly my plane. It was very dark and I just couldn't see it well enough to fly it. I gave Ben the transmitter and used my torch to spotlight the plane. He did very well considering it is not a simple thing to fly. It was good fun.
On Tuesday we drove to Ipswich. Mo and I grew up in the UK, in and around the town of Ipswich, Suffolk, so obviously we've always wanted to visit the Queensland version. We climbed the water tower and had a really good 360 degree view. (Click for Local Map)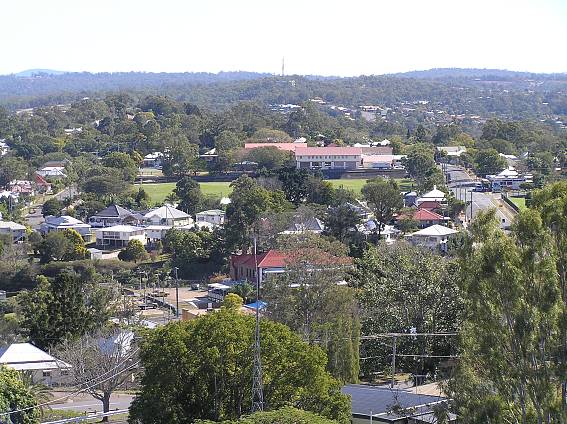 Here's a view from the drivers seat –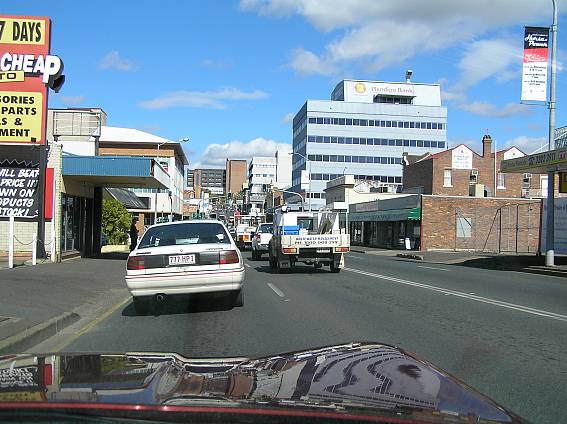 Then we crossed the river on the  Moggill Ferry and arrived at Steve's place just before lunch.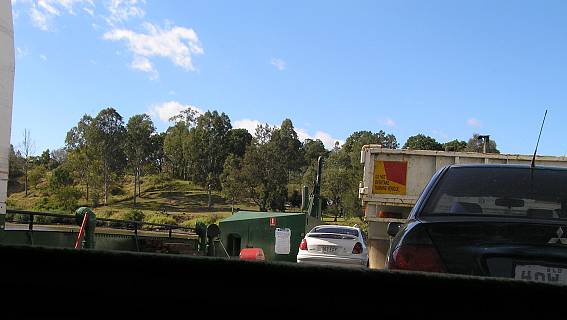 After lunch Steve and I had a look at my sticking throttle, the cable had been damaged and we soon eliminated everything else as the cause. The more we worked on the cable the worse it got!!! We re-routed it, oiled it, swore at it, taped it and eventually gave up. We took each others vettes for a drive. Steve said my 88 was more refined and I reckon his 85 had more power. After checking out a few other things it was time to leave. Steve and Lehte decided to come with us to Mt Coot-tha so we drove in convoy. By this time it was dark and Steve has no roof on his vette. I bet they were freezing, but it was great to drive in convoy with another C4 Corvette. Steve's throttle must have been sticky too, because he left a lot of rubber on the road!! he he.
The night view of Brisbane City from Mt Coot-tha was spectacular. We said goodbye to Steve and Lehte and navigated our way back through Brisbane and over the river. We stopped to get some food and then, on the way back to Mike's place, we missed a turning and ended up going across the river again, this time on the Story bridge, which was lit up and interesting to drive across. Luckily Mo recognised some streets from all the walking she's done in the city and we managed to re-cross the river and get home.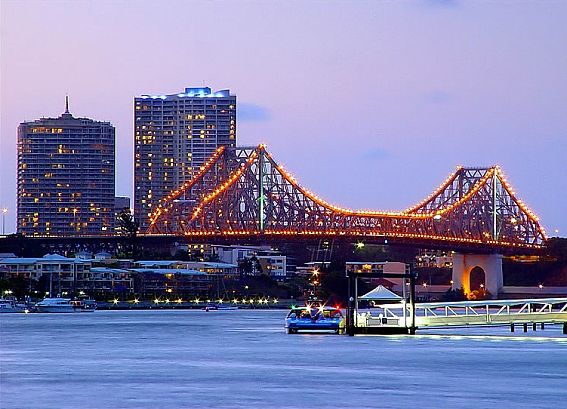 Wednesday July 5th was our last day in Brisbane. We drove over to see John Bondok, the Corvette Conversion guru and I had a good talk with him about several Corvette things. He sent me on an unsuccessful search for a new throttle cable and eventually we ended up driving around Wynnum Manly, an area we always enjoy. We had coffee on the outside deck at the Manly Marina and then drove to the yacht club where our last yacht now lives. I got permission to get into the Marina and we found Allegro and climbed aboard for a few minutes.
On Thursday morning we tidied up and set off for home in brilliant sunshine at 9.50am. We took the Gateway Highway and then turned off and joined the Bruce Highway which goes all the way to Cairns. The Corvette burbled along, the cruise control holding a steady speed. We refuelled at Childers and had a good run on almost empty roads until near Gladstone. Here we were stuck in a long queue of traffic from a road accident several kilometres ahead. Finally we reached the turn off for Tannum Sands, just before Gladstone and we drove down to have a look, finding a nice Motel near the river and beach at Boyne Island.
The next morning we took some pics –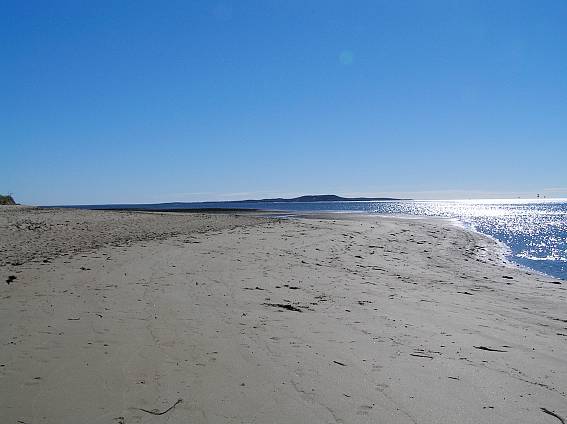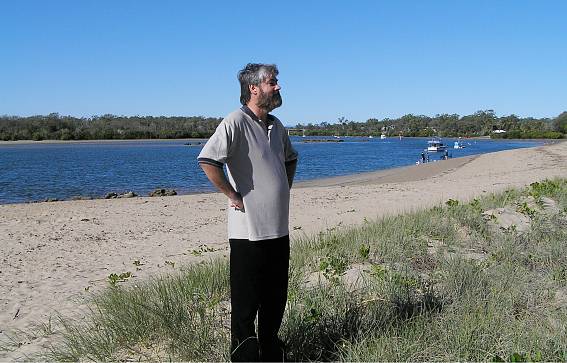 O
n Friday morning we left Boyne at 10.30am and ran through to Carmilla at 3.30pm where we refuelled and had a snack. From there it was a short 30mins to Reidies place at Sarina, arriving at 4.30pm. It was great to catch up with him and Bernice. We marvelled at all the work they'd done on their 2 acre block. I flew my plane around for 10 minutes and we talked and laughed for the next 6 hours.
The Corvette looked great in their drive way –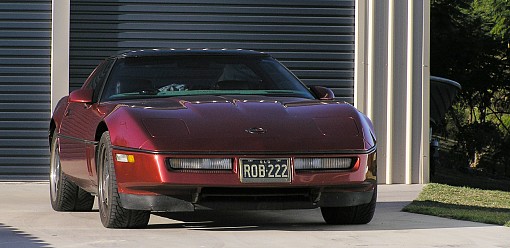 But then, it looks good anywhere!
We left for the last leg home on Saturday 8th July 2006, at 9.45am. It was a long day, the sun got hotter and hotter as we headed North. We refuelled at Townsville and arrived home after dark at 7.15pm. We made good time on the road, taking nine and a half hours to get home from Sarina even though we were delayed a few times with roadworks and a queue at the Townsville fuel station.
Stats for the trip showed we had travelled just under 5000 kms (3100 miles), at an average fuel economy of 10.8 l/100kms. (UK 26mpg US 21.8mpg). Fuel prices averaged $1.35 per litre (US $1, GB 55p) for premium unleaded and we spent about $700 on fuel, $500 of that was just the Cairns/Brisbane leg.
Everywhere the vette went it got noticed and people would say hello, it was a great conversation opener. I was amazed how much gear we fitted into the vette and yet I couldn't feel any difference loaded or unloaded. The powerful engine made driving easy, whether in city traffic or the open road. Except for the sticky throttle cable, the car was entirely reliable and ran faultlessly. The cable was damaged recently and will be replaced now we're back home.
The long distance drive between Cairns and Brisbane generally takes between 20 and 24 hours to complete. The road south of Ingham up to Cairns is in bad condition with some big potholes and many bumpy repairs. From Ingham to Brisbane there are many long straights and the road improves as it goes South.
I've always enjoyed driving, hence the idea to have a Motoring Holiday, but it would be more enjoyable if it wasn't for the low speed limit of 100kph (62mph), combined with hidden speed cameras. It's a fine balance between choosing to overtake vehicles doing 95kph and getting caught speeding.
It's been calculated that without breaking the speed limit, it takes 2 or 3 kilometres to overtake someone doing 95kph. That's a really dangerous move, far better to pick a safe spot and get past safely and quickly, not linger around waiting for someone to come the other way.
Why overtake when the car in front is doing nearly 100kph? Firstly, my experience for several years has been that a person that drives at 95kph tends to slow down going up hills, round corners and when there are overhanging trees – crazy I know but it becomes very obvious, hour after hour driving down the highway, especially with cruise control on. The Corvette speedometer is a digital display showing the exact number of kilometres per hour, I check the accuracy of it every few months, so I know exactly what speed we are travelling at.
Secondly, and importantly on long journeys, maintaining as close to 100kph as reasonable, reduces a 12 hour day to 11 hours. A very worthwhile reduction.
Who choose 100kph ? Why get locked onto such a nice round number ? In the UK and US they use 70MPH (112kph) which would be a little better, but we all seem to be hypnotised by a number instead of selecting a speed we feel safe at.
30 years ago the average cruising speed, where safe, was 120kph. Since then the roads have got wider and straighter and cars roadholding and braking have improved dramatically. Yet we are now all tethered to a slow 100kph.
There are a few places where 100kph seems a fair speed limit, but for the rest of the 1700km trip 120 to 140kph would be quite safe. There are hundreds of long straights in the middle of no-where that feel comfortable at between 140kph and 160kph.
The other crazy thing is that the slower driver who has a queue of traffic behind him, speeds up when there's an overtaking lane. A better principle would be to slow down and let all the people they're holding up get past.
The trip is a battle of watching for speed cameras and radar instead of driving safely to the road conditions. So having arrived home safely, once again, without upsetting any other road users, I now have to wait and see if any nasty pictures arrive !!! I'm fairly confident my license will stay clean, as it has for the last 20 years, but the trip would be far more enjoyable if the blanket speed limit was raised to a more acceptable level.
On a positive note, this time I found all the caravan drivers very good. If they were driving in convoy, they left enough room between each van to make overtaking safe. I believe the camaraderie between caravanners has promoted discussions and they all now seem very aware of overtaking cars. Unfortunately there were a few groups of cars driving nose to tail which meant overtaking could only be done safely on long straights.
Our Motoring Holiday was a big success, driving allowed us to see many things that would be missed by flying. While the fuel bill seems high, it would only have taken a few days to equal the cost of car hire and instead of some Avis 'Shopping Car', we were driving around for two weeks in a famous luxury V8 sportscar – not too bad! Our only regret is that we would have liked to have had more time.
I have a new list of jobs for the Vette, in my efforts to live in a perfect world, and there'll always be work to be done to keep an 18 year old car running well. It was a great trip and I'm already looking forward to the next 'Motoring Holiday'.